Typically for a date night, the hubs and I will go out for dinner. Or possibly dinner AND a movie, if we skimp a bit on locale and order french fries instead of bruschetta. It's a budget thing and, let's face it, I live with a very budget-conscious person, which allows me to have certain niceties that I probably wouldn't otherwise, like a roof over my head, clothes on my back, and an unlimited number of Diet Pepsi cans in my fridge.
But last Friday, we branched out a bit. Thanks to the generous folks over at our local Mall of America, Jonathan and I were offered tickets to see
Cirque du Soleil's show OVO
which happens to be in town right now.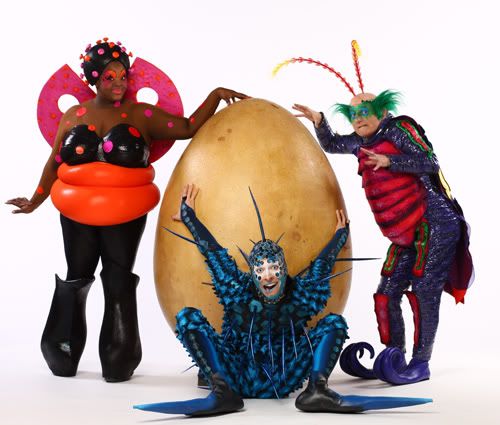 Incidentally, when I got that email offer, I was immediately all CHECK THAT OFF THE BUCKET LIST because I've wanted to see a Cirque show FOREVER. And when I pitched the idea to my husband later that night, he was thrilled too, especially when I told him that doing dinner plus the show would be in our date budget. AND HE DIDN'T HAVE TO EAT ANY FRIES!
So after downing a bite of dinner at the Mall of America, we walked over to the big top. Folks? The show was nothing short of amazing. There were contortionists, acrobats, and trampolinists doing some truly breathtaking stunts. The kind of stunts that are made to look easy, but are really the kinds of things that you do not want to try at home. Unless, of course, you have a really good chiropractor and an ambulance on speed dial.
In my opinion, the best part of the show was the finale where the artists used trampolines and a rock wall to perform to the music. Those of you who have read my
About page
know that I used to be an avid rock climber and actually met my husband while I worked at a local climbing gym. As someone who spent hundreds of hours on rock walls, I have a pretty fair understanding of the kind of strength and agility it takes to contort one's body to climb. So when one of the performers climbed HEADFIRST DOWN THE ROCK WALL TO THE MUSIC, I got chills.
To make the experience even better, Nathaniel and I attended an event several days later where we were able to meet a few members of the cast and tour the backstage area of the big top. Seeing the vast amount of preparation that goes into each show and the rigorous, daily training schedule that the performers keep was a huge eye-opener.
Beyond the training itself, learning that some of the performers travel with their families was equally as surprising. Full-time mommy and professional acrobat? My hat is off to those amazing people. That's something I could not achieve in my lifetime, and not just because the size of my belly currently rivals the size and shape of Ohio.
So if any of you get the chance to see the show or are willing to order a side of french fries to fit this amazing experience into your budgets, I highly recommend it! All the hype didn't disappoint and while I would very much like to cross this experience off of my bucket list, I'm tempted to leave it there just for the excuse to see another show, even if it means eating french fries for a month of date nights.
Disclosure: I was provided with two free tickets to see the Cirque du Soleil show OVO, but as always, the thoughts and opinions expressed above are my own and no amount of free tickets, though arguably awesome in nature, could alter that fact. My thanks to the Mall of America and Cirque du Soleil for providing a wonderful date night as well as the photos pictured above.