Every day when I find a minute to sit down at the computer and open up Google Reader, I look forward to reading about Jax's latest adventures on The Paro Post. Jax is a bit older than Nathaniel and I love reading about all of the things he's learning... and thinking about how we'll be there soon too! So when I asked Jax's mama, Becca, if she would be willing to write for you all, she graciously agreed to give me the day off so I can spend it chasing after my now frighteningly mobile child. So while I'm off in the land of teethers, rattles, and baby gates, here's a peek into Becca's world!
As a mom, I know that I often get so frustrated with the whining and temper tantrums and frustration that result from my toddler not being able to express his wants and needs (but let's be honest, mostly WANTS at this point). My son, Jax, is being seen by an occupational therapist and a speech therapist, but they are primarily focused on his eating problems (a whole other story in and of itself). They are, however, trying to work with him to teach him words and signs to express himself.

How's that going, you ask? Well, he has no words yet really, unless you count the word that sounds something like "SHIP!" that he likes to yell while we're out in public. He makes the typical sounds "ma, da, ba", but I'm not quite sure that he associates the sounds with Mom, Dad, or ba-ba just yet.

He is making some headway with baby signing though. I never tried to teach him any signs when he was an infant (I probably should have) but he seems to be picking up on them fairly well, since the other day he signed "more" and "milk" together. I may or may not have welled up with tears at that point.

So today, I'd like to do a little segment called "If Jax Could Talk". I'm notorious for being a "Mamarazzi" and having the camera in Jax's face for a large portion of each day and I've been able to capture some of his hand signals and facial expressions....now, let's see what we think they mean!




"You're seriously taking pictures of me in my diaper?"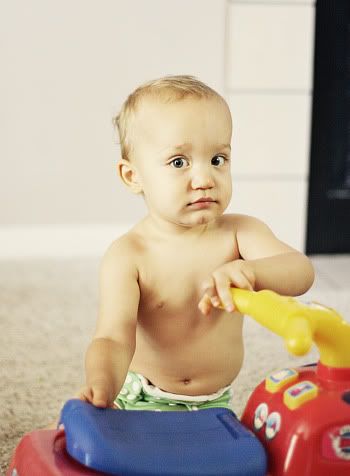 "SAND IS FREAKIN' AWESOME!"




"ZOMG I can barely see straight but I must stay awake. Fighting sleep is pretty much my job."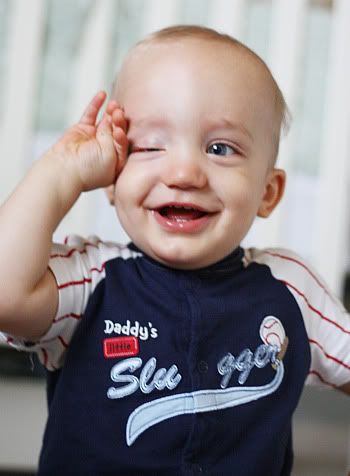 "Giiiiirl you got another thing comin' if you think I'm gonna touch this crap!"




"Hmmm what should I do next? Drop mom's phone in the toilet again? Or maybe climb on the furniture when she's not looking? Nah, I think I'll just unfold all that laundry over there in the basket."

I know one day I will be listening to my son endlessly ramble (he is
my
child, after all) and long for the days of silly babbling, and sweet coos, but for right now I am really looking forward to seeing what words will make their debut over the next couple of months... One thing I know, "out of the mouth of babes" will have a whole new meaning!