It's summer and that can mean only one thing for our family, y'all- we can finally put away our parkas and venture into the great outdoors! It's time to go camping, pack a picnic, and take that long bike ride. How do you do all of this with a baby? You get the right gear, toss a few diapers into a bag, and step bravely out your front door!
Awhile back, I told y'all about our experience using the
Chicco 360 Rotating Hook On Chair
. And when the folks at Chicco heard that our family loves camping and was looking for a light, portable high chair, they sent out their
Caddy Hook On Chair
.
The Caddy is made from a nylon material, which means that cleaning the chair is as simple as wiping it down with a damp cloth. For those of you who have found bathtime to be a necessity after EVERY SINGLE MEAL OF SOLID FOODS between the squash in the hair and peas cemented in the babe's eyebrows, you understand just how necessary easy cleaning becomes when you're out and about!
The Caddy Hook On Chair clamps down to the table with rubber grips and is extremely secure. When you're done using it, it easily folds flat, leaving room in your car to pack more traveling necessities. Like diapers. Or that toy your baby just can't live without.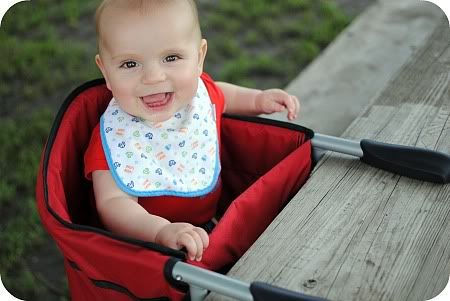 The Caddy Hook On Chair is best used with babies who are able to sit up on their own. The chair holds children up to 37 pounds and is extremely roomy. The extra space is perfect for a little chunk like my son, but it also requires that your baby can sit up by himself or slumping over during dinner becomes a bit too easy.
Nathaniel is just starting to sit up on his own and he enjoys sitting in the Caddy. It's comfortable for him and it brings him right up into the action. While he loves it, it is also forcing mama and daddy to get more creative when eating dinner, since a certain someone is now acutely aware that people are eating and HE IS NOT BEING OFFERED A HOT DOG.
After using the Caddy Hook On Chair, our family has found a travel must-have. It's yet another Chicco product that is extremely well-made, baby-friendly, and best of all, easy to use! For traveling, it makes things simple without taking up precious packing space so there's plenty of room for all the diapers and baby toys you could possibly need! It's travel with a baby made easy, every parent's dream come true!
Disclosure: I was not paid to write a review on the Chicco Caddy Hook On Chair. Although I received the chair for the purposes of a review, the opinions expressed are my honest view of the products. My thanks to Chicco for providing their product.