Congratulations to Jackie who was selected by random.org as our winner! Jackie, please email me to claim your prize!
Since Nathaniel's birth, I have experienced a resurgence in my feminine side. I chalk that up to the fact that I no longer waddle through doorways and am not experiencing the urge to break out in a chorus of Baby Beluga each time I walk past a mirror. With the return of my femininity has come a sudden and powerful need for RUFFLES. Because what says girly better than RUFFLES? Like a ruffled handbag, a ruffled clutch, or a ruffled headband?
Meet
Gussy
. You may have seen her adorable badge hanging out in my sidebar for a couple months now, which is roughly the same amount of time that I have been drooling over her products.
Gussy is like Batman with fabric. She finds the most amazing prints and creates gorgeous bags (with ruffles, y'all) for laptops, work, or even diapers! She has created girly bags for iPads, makeup, and smart phones. And she has taken checkbook covers to an entirely new level.
Currently, I am the proud owner of two amazing Gussy products, including a ruffled
clutch
which I use EVERY SINGLE DAY. Instead of digging for the ever-elusive credit card in my black hole of a diaper bag, I know exactly where it is! And while half of Nathaniel's bedroom comes along with us in the diaper bag for an outing, all of mama's necessities fit neatly into the clutch... that is, when the baby isn't getting into them!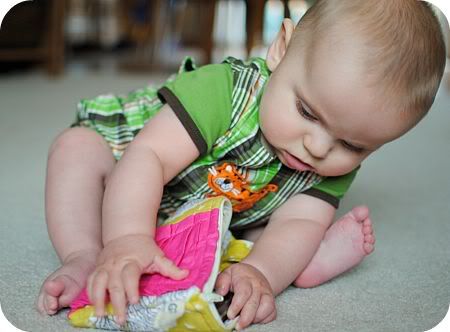 If you've previously heard of Gussy and you're anything like me, you've probably been scouring the internet looking for giveaways to enter to snag some of her great products. SCOUR NO MORE! Gussy has graciously offered one reader the chance to win a $30 credit to her shop!
How can you get a Gussy product? Become a public follower of Adventures of the Stay At Home Mom on Google Friend Connect, visit the Gussy
shop
, and leave a comment here telling me your favorite product! (And if your email address isn't publicly listed on your profile, please leave it or email it to me so I have a way to contact you if you are chosen as the winner!)
And for the overachievers? Tweet the following and get yourself ONE extra entry into the giveaway:
Ruffles for everyone from @GussySews! Check out the #giveaway by @Advofamama here: http://tinyurl.com/2f5demt
Make sure to come back and leave a comment telling me that you tweeted and your name on Twitter!
The giveaway will end June 17 at noon CST and the winner will be chosen by random.org. Best of luck to all who enter, or as Gussy would say, YEOW!
The Fine Print: I was not paid to write a review on a Gussy clutch or Gussy products. Although I received a complimentary clutch for the purposes of the review, the opinions I express are my honest view of her products. Because I genuinely love the Gussy shop, I have and will continue to shop there... and y'all should too!