Congratulations to our winner, Verna, who was selected by random.org. Thanks to all who participated!
Now that summer is quickly approaching, many of us are facing the constant battle of nursery temperature. Is it too hot? Too cold? Should I turn on the air conditioning or open a window? And if you're a new parent facing these challenges for the very first time, it's all the more stressful making sure your baby is sleeping at a comfortable and safe temperature.
Admittedly I'm a bit late to the party on this one, but shortly after Nathaniel was born, I learned that allowing a baby to sleep in a hot room is considered to be a SIDS risk. While a parent could go mad trying to prevent every risk (and many of you know just how close I came to a straight jacket and padded walls over this very issue while I was pregnant), the temperature concern is one which can easily be addressed. With the
GroEgg
.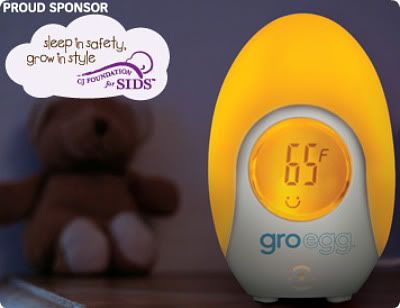 I first saw the GroEgg while I was thumbing through a baby catalog and commenting to the hubs about all the neat baby gear we could get for Nathaniel. Since we have this conversation roughly every other day, he just smiled and nodded as I pointed out no fewer than 600 items that our son clearly NEEDED to have. But the GroEgg stopped me in my tracks.
The GroEgg is a nursery thermometer which changes colors based on the temperature in the room. At the risk of sounding like the Rainbow Brite version of Goldilocks, the GroEgg glows blue for too cold, yellow for just right, orange for warm, and red for too hot.
Keen Distribution, the US distributor for Gro Company, sent out the GroEgg and I immediately placed it in Nathaniel's bedroom. While the digital readout showed the exact temperature in the room, the egg lit-up to a warm orange glow.
If you're like me, you assume that the temperature in your baby's nursery is the same as the hallway thermostat. I WAS WRONG. The GroEgg quickly showed me that the temperature in the hallway could easily be different from that of the nursery. And while a degree or two isn't likely to make a huge difference in the comfort of your child at night, I am much more at ease knowing that my baby is sleeping safely at a temperature recommended by the American Academy of Pediatrics.
Beyond the use as a thermometer, the GroEgg is light enough to provide a dim glow at night, thus preventing many a stubbed toe as I stumble around for the ever-elusive light switch. Yet contrary to my main concern before receiving the GroEgg, it isn't bright enough to disturb my little boy's sleep.
A rather obvious word of caution to those considering purchasing this product... do not place it near a lamp. Initially and rather thoughtlessly, I set the GroEgg about a foot away from Nathaniel's lamp. This threw off the temperature reading, making it appear that the room was significantly warmer than it truly was. I'm claiming mommy brain on this one. And yes, I moved it across the room where it now displays an accurate temperature.
The GroEgg makes me feel like I'm doing my job as a mama to keep my little boy safe. While I can't protect him from everything, I can make sure that he is sleeping at a safe temperature. And the GroEgg is perfect for putting my mind at ease.
By now, y'all should know that I only run giveaways on my site for products that I truly love. The GroEgg definitely falls into this category and Keen Distribution has graciously offered one lucky reader the opportunity to win a GroEgg for your own nursery!
The giveaway rules are simple. Become a public follower of Adventures of the Stay At Home Mom on Google Friend Connect (located in the right-hand column) and leave one comment below, telling me about your all-time favorite baby product!
The giveaway will close at noon on June 4. The winner will be chosen by random.org and will be notified via email. Best of luck to all who enter!
Disclosure: I was not paid to write a review on the GroEgg. Although I received the GroEgg for the purposes of a review, the opinions expressed are my honest view of the product. My thanks to Keen Distribution for providing their product.