Awhile before Nathaniel was born, I mentioned that the hubs and I had purchased a Chicco infant car seat. And how awesome and
easy it was to install
. But now that we've had it in hard use over the last four months, it warrants revisiting the topic.
We purchased the
Chicco Keyfit 30
car seat in Adventure (green/beige). And after hearing that 80% of people install their car seats incorrectly, I was more than a little nervous about installing it in our car. To the point where I was breaking out in a cold sweat anytime I glanced at that seat.
About the time that I hit 34 weeks of pregnancy, I politely asked (or as some may tell it, insisted and demanded with the force only a hormonal pregnant woman can muster) that we install the car seat base. JUST IN CASE the babe decided to make an early entrance. Which, incidentally, he didn't. But every pregnant woman has her JUST IN CASE moment. And this was mine.
We hustled or in my case, waddled, out to the garage with the car seat. The hubs graciously crunched himself into the backseat of our Honda Accord while the Massive Pregnant Belly and I stood outside. I like to say that we were the moral support.
I read the directions aloud and the hubs strapped the car seat into our backseat. Quite frankly, after hearing installation horror stories from other parents that would've scared Sam Raimi, I expected to spend the better part of our night out in the garage. 5 MINUTES LATER we were done. Between the simple directions and the level buttons on the side of the base, installation was a breeze.
Naturally, the Massive Pregnant Belly and I were thrilled. And when we packed ourselves up to have our installation checked by a professional, we were surprised to discover that we (ahem, the hubs) had installed it correctly.
I credit the level buttons on the base. And, of course, a very competent husband.
The last four months have proven that the Chicco brand is every bit as good as advertised. The Keyfit 30 has been very user-friendly, even when adjusting it to fit our growing boy. My singular disappointment with this car seat is merely that Nathaniel won't be able to use it much longer since he is growing so quickly, which speaks more to the size of my child than it does to the quality of his car seat.
Because we had such a wonderful experience with the Keyfit 30, our family enlisted the help of our friends at Chicco when we found ourselves in need of a portable high chair. Both the hubs and myself were finding it extremely inconvenient to rent a moving van every time went to the in-law's house for dinner and in an attempt to save money and quit hauling around the high chair we use at home, we opted for something a bit more portable.
Chicco sent out their new
360 Rotating Hook On Chair
and, I must confess, I was more than a little excited to try it out. The moment it appeared on my doorstep, I cracked open the box and told Nathaniel it was time to eat.
The chair arrived in the box in three pieces: the seat and the two hook on bars. Contrary to my legendary "Some Assembly Required" fears, it was put together in under a minute and safely strapped to my kitchen table.
Evidently, I wasn't the only one thrilled with our new chair. The padded chair made mealtime very comfortable for my little boy and the secure rubber grips on both the top and bottom of the hook on bars gave this mama peace of mind, knowing that my son was safe and sound.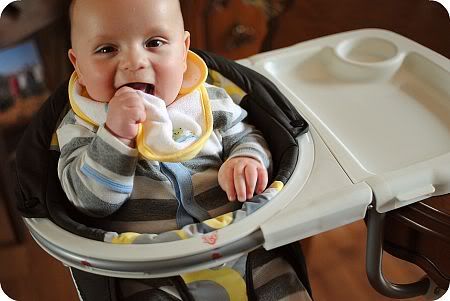 The Rotating Hook On Chair holds children up to 37 pounds and locks into six different positions, making this chair perfect for feeding the babe, playtime, or introducing table foods.
One of the features I found to be particularly wonderful about this chair was the dishwasher- safe snap-on tray. For all the mothers out there who don't want your child eating off of any old table surface, this one is for you! While I'm not worried about Nathaniel eating from my own table, I'm less than thrilled with the prospect of his hands and food all over the table at a restaurant, especially given the fact that I once worked in the food service industry and saw some less-than-sanitary situations. (On an unrelated note, may I strongly suggest that you NEVER make your waiter angry. It does not bode well for your meal.)
After enjoying his sweet potatoes in the chair, I think it's safe to say that Nathaniel and I agreed that it was a raving success. And since half of my dining room was covered in orange goo following lunch, I was extremely grateful that the pad is machine washable and easily cleaned.
When it is not in use, the 360 Rotating Hook On Chair folds flat for storage and it comes with a shoulder travel bag, which makes transporting it to your in-law's house for dinner as easy as pie.
As a new mother, the products I value the most are the ones which simplify my life. No mom needs the type of baby gear which adds clutter and chaos to her life, and there are a multitude of items on the market which do just that. The 360 Rotating Hook On Chair, however, is not one such product. It is easy to use, safe for your baby, and makes any dinnertime as simple as "Here comes the airplane!"
Disclosure: I was not paid to write a review on either the Chicco Keyfit 30 or the 360 Rotating Hook On Chair. Although I received the 360 Hook On Chair for the purposes of a review, the opinions expressed are my honest view of the products. My thanks to Chicco for providing their product.