Congratulations to our winner, MommyDeegan, who was selected by random.org. Thanks to all who participated!



You all know how I feel a

bout t-shirts. I mentioned my undying love for awesome shirts
here
and those feelings certainly haven't diminished. So when I heard that CafePress was looking for someone to review their shirts and do a giveaway, I jumped at the chance. So fast that my chair toppled over. And if any of you have been to the CafePress website
, you'll understand why.
It's the t-shirt addict's dream come true. Shirts in every style, size, and color. And they have just about every imaginable design for the tees. Politics to Twilight. Babies to Coffee. And so much more.
Besides the t-shirts, there are a plethora of other items available for all of your gifting needs, including mugs, magnets, totes, posters, and stickers. You can find millions of personalized gifts at CafePress for every event, topic, or interest!
Since you all have heard (again and again) about my love affair with t-shirts, you can imagine how thrilled I was when the CafePress team sent out two items for me to review, a
mommy t-shirt
made of organic, fitted cotton, and an adorable little
camping onesie
for Nathaniel. Both items are made with nice, thick cotton (important coming from a t-shirt snob) and they are just as adorable as the pictures!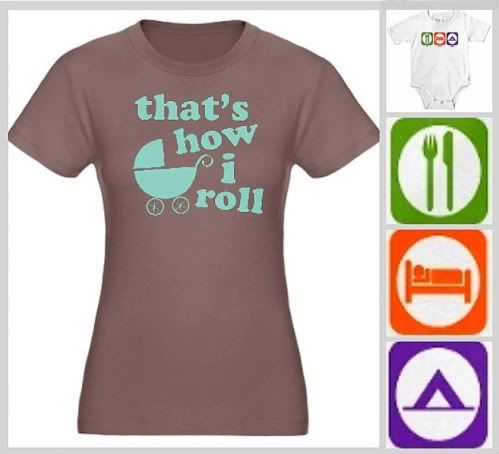 And because CafePress is such an awesome company, they want to share the t-shirt excitement with all of you! They are graciously offering to provide one reader with a mommy (or daddy) t-shirt and a baby onesie... of your choice!
To enter to win this awesome giveaway, you must:
1. Become a follower of the Adventures of the Stay At Home Mom (if you are not already a follower).
2. Check out the CafePress website and comment back here telling me your favorite shirt design.
As always, extra entries into the giveaway are available! To enter again and increase your chances of winning the shirts, you must:
1. Follow us on Twitter @Advofamama and comment back here telling me you're a follower. Good for one extra entry.

2. Tweet this and leave a comment here: "Enter to win two CafePress baby and mommy tees from @Advofamama." One tweet per day, good for one entry per tweet.

3. Comment on any of the posts from the Adventures of the Stay At Home Mom. Good for one extra entry, only one comment will be counted per person.
The winner will be chosen by random.org on April 12 and will be notified by email. Good luck!

CafePress is also sponsoring an Earth Day Photo Contest. Enter your photo here, tell CafePress about your eco-friendly dreams, and you could win a vacation to the U.S. Virgin Islands! Additionally, CafePress is also offering their customers a FREE tote in honor of the 40th Anniversary of Earth Day! Click here to learn more.


Disclosure: I was not paid to write a review on the CafePress Mommy and Baby Tees. Although I received the shirts for the purposes of a review, the opinions expressed are my honest view of the products. My thanks to CafePress for providing their products.