My little tiny newborn baby is four months old today. And once I emerged from the corner of my room where I was holed up in the fetal position, Nathaniel was all, WOMAN COME OVER HERE AND FINISH TEACHING ME THE CHAOS THEORY. I GRADUATE FROM COLLEGE TOMORROW AND I'M GETTING MARRIED ON TUESDAY.
It doesn't seem possible that four months could go by so quickly.
It seems like
only yesterday
that my slippery baby was placed on my chest as he screamed his indignation at a very bright and chilly world. And then in the span of two heartbeats, he was responding to mama's voice and smiling. Three seconds later, here we are at four months with a baby who is all smiles, giggles, and screams.
The past days and weeks have been lessons in both in joy and patience. And I am quite certain that I will be investing in hearing aids before the age of 30. Because Nathaniel has recently learned that bellowing with the force of a small hippopotamus is an excellent way to garner attention.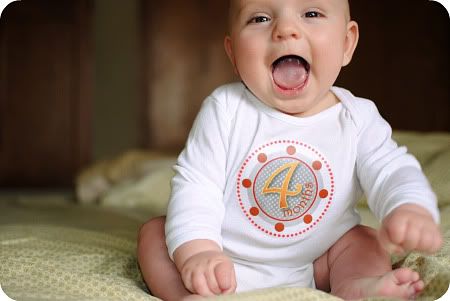 These days, my little boy is all smiles and is showing off the beginnings of three pearly whites. Because he has decided to do everything at an accelerated pace. Including cutting teeth. Which brings us back to bellowing like a small hippopotamus. Who knew that
teething salvation
could be made of rubber and that it would not only help the babe's gums but also postpone the inevitable parental hearing loss?
For those of you wondering, Super Baby currently weighs in at 18 pounds 5 ounces and is 27 inches long. He's in the 95th percentile all around and will be in his infant carseat for about two more seconds before he starts busting out the sides and asking to drive.
It's all going by so quickly and as his mama, I want nothing more than to drink it all in. I want to burn these memories into my mind so that when the day comes that my little boy is a grimy teenager who leaves his boxers on the bathroom floor and comes home past curfew, I will be able to remember that sweet baby scent. And smile knowing that I didn't miss one precious opportunity for snuggles with my son.